I found a little time for art today ... so I whipped up some bird themed inchies.
Now let me tell you about the buttons ... I stumbled across a sale item at Dick Blick that I couldn't pass up:
one pound bags of buttons for $2.99!
Wow! That is pretty cheap and I use lots of buttons! I bought a couple of bags, which arrived the other day. I'm pretty happy with them (however they do need to be washed off a bit). Each assortment is potluck. My assortment has a nice range of sizes and colors, there are lots of little buttons, a few shaped buttons (hearts, flowers, etc..), some glittery buttons. They are mostly flat buttons like the photo sample they show: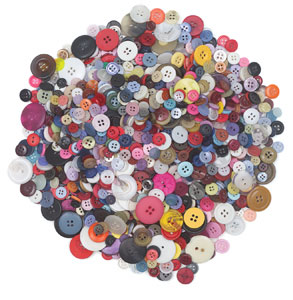 My assortment has more darker colored buttons than the photo - but there are lots of colors mixed in. Very few chipped or broken. When I get a chance to sort through them some more, I'll snap a photo.