Busy, busy, busy! I have been all over the place lately.
I'm hosting a Halloween postcard swap over at
ATCsforALL.com
. There's still room for a few more sign-ups!
I'm working on puzzle creation for my
6th puzzle book
. I am hoping to have it done this Fall, but it is a struggle.
I'm also trying to build up stock for
my Etsy shop
. Last year I sold most of my puppets by December 1st & spent the following 3 weeks stitching at a frenzied pace to keep up. wheee! Just trying to be better prepared this year.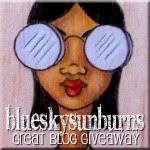 Be sure to stop by
BlueSkySunburn's Great Blog Giveaway
! This is a weekly giveaway running all month, with lots of fabulous goodies to be won!